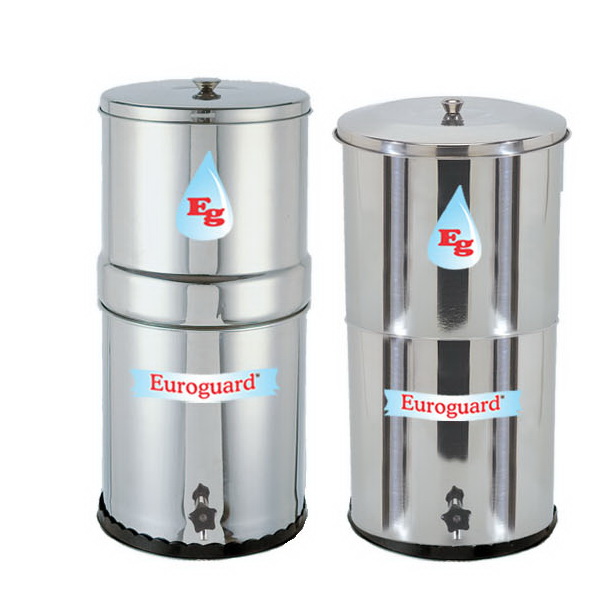 Euroguard Water Filter
Water has always been an important and life-sustaining drink to humans and is essential to the survival of most other organisms. Humans have inadequate access to potable water and use sources contaminated with disease or unacceptable levels of toxins or suspended solids. Drinking or using such water in food preparation leads to widespread acute and chronic illnesses and is a major cause of death and misery in many countries. Reduction of waterborne diseases is a major public health goal.
'Euroguard' Water Filter gives you the solution for better health and hygiene. It gives you clean, pure & safe drinking water at the Wonder turn of a Tap, it helps protecting your family from water-borne disease. Boiling just kills germs but has no effect on the spores the resting stage of bacteria, since most of these spores remain unaffected even by boiling at 100°C for one and half hours. As the water cools, 'Euroguard' water Filter become active again often with increased vitality.
The S.S. Container consists of upper and lower chambers made of Non-Magnetic stainless steel & each of our 'Euroguard' water filters are crafted from the highest quality of food grade stainless steel finished with a lustrous shine.
The 'Euroguard' Ceramic Candle filter's Activated Carbon Granular & Silver Particles kills all the germs and spores & allowing pure, Crystal clear water. Drops to be collect in the lower chamber of the container.
Material used for manufacturing Eurogurad Stainless Steel container:
We manufacture Euroguard water filter in Food graded Stainless Steel 304 & 202 series . These grades are the most widely used in stainless steel products. Offers good corrosion resistance too many environments has good formability and can be readily welded. Better corrosion resistance as well as higher strength at elevated temperatures than other Stainless Steel materials. Often used for cooking ware, surgical tools and marine applications as most popular of stainless steels.
Material composition of Stainless Steel
Stainless Steel
202
304
Carbon
0.12
0.08
Manganese
5.5/7.5
2
Silicone
0.9
1
Chromium
16/18
18/20
Nickel
0.5/4.0
8.0/12
Molybdenum
0.2
Phosphorus
0.06
0.045
Nitrogen
0.25
Sulphur
0.03
Tensile Strength
105
85
2% Yield Strength
55
35
Elongation in 2'
55
55
Rockwell
90
80
Brinell
185
150
Lead
NIL
NIL
Sizes
1-2 ltrs, 7, 10, 12, 14, 16, 18, 21, 25, 27, 30, 34, 40, 60 ltrs
How Euroguard water filtration system filters impurities from ordinary water.
1. Just pour water straight from the top in to the upper chamber.
2. The laboratory tested candle filters all germs, bacteria and impurities out of the water.
3. The Stainless steel containers resist chemical reaction and non corrosive and scratch proof, light and unbreakable.
4. Safe pure water collects in the lower chamber ready to drink natural & clear safe water.
Photo of water filter system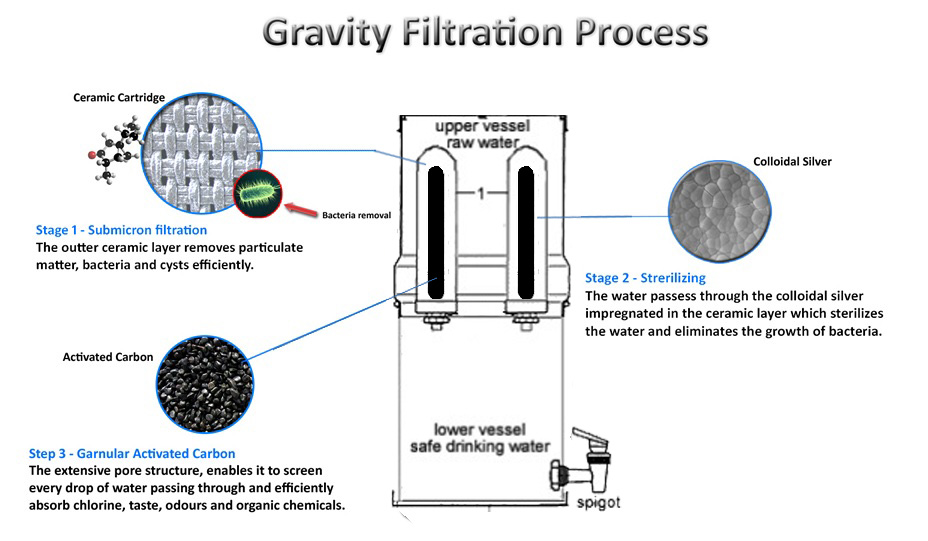 Characteristics of Euroguard Water filter
1. 'Euroguard' Filter system is easily Movable, Light Weight & works without electricity.
2. 'Euroguard' candle's cleanable filter elements are designed to remove suspended solids, hydrogen sulphide, pathogenic bacteria & led.